KOMPAS.com - Tugas sekolah tidak hanya membekali siswa dengan kemampuan intelektual saja namun juga diharapkan mampu untuk melahirkan lulusan yang memiliki kepekaan hati terhadap lingkungan dan masyarakat sekitar.
Kepekaan dan keinginan untuk berbela rasa pada sesama inilah yang hendak dibangun dalam kegiatan Pribadi Bilingual School Bandung yang menggelar kegiatan tahunan "Santunan Yatim dan Dhuafa 2020"
Tahun ini gelaran mengangkat tema "Have Fun with Yatim & Dhuafa" dalam kemasan acara dengan nuansa hiburan spesial untuk yatim dan dhuafa.
"Pada dasarnya siswa dididik untuk mengerti tentang tujuan penciptaan, yaitu berusaha keras untuk menjadi manusia seutuhnya yang mencintai Tuhannya, bangsanya, dan memperjuangkan perdamaian dunia. Tanpa empati tidak muncul persaudaraan," jelas Kepala Sekolah Pribadi Bilingual Bandung Rahmat Hidayat.
Baca juga: Guru dan Tantangan Pendidikan Karakter
Acara diawali dengan nonton bareng film "Terra Willy" di Bioskop CGV Paris Van Java Mall Bandung pada 15 Februari 2020. Sajian film pilihan diharapkan akan memberikan edukasi kepada siswa dan juga sahabat yatim dan dhuafa.
"Diharapkan film ini akan memberikan inspirasi bagi kita semua untuk selalu kuat berusaha mandiri," tutur Redi Rahmat selaku ketua penyelenggara.
Sebelum pemutaran film dimulai, acara dibuka dengan beberapa sambutan diantaranya disampaikan Kepala Cabang Dinas Pendidikan Provinsi Jawa Barat, Endang Susilastut.
"Kegiatan ini sangat perlu diselenggarakan guna implementasi pendidikan karakter di sekolah. Saya harap sekolah-sekolah lainnya dapat mencontoh kegiatan yang luar biasa di Pribadi Bilingual Bandung ini," harap Endang.
Salah satu orangtua siswa, Dany Amrul Ichdan yang saat ini menjabat staf utama Kepresidenan RI juga memberikan harapan senada, "Anak-anakku sekalian, anda adalah calon pemimpin masa depan Indonesia. Dengan kegiatan seperti ini, kita semua akan saling mendukung untuk maju bersama."
Dari nobar hingga belanja buku dan baju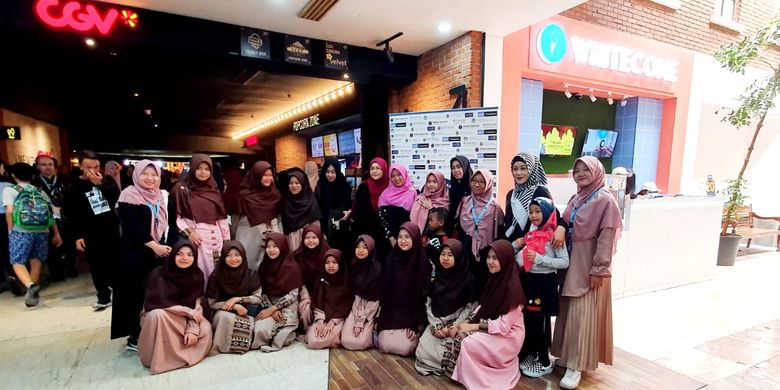 Pribadi Bilingual School Bandung menggelar kegiatan tahunan Santunan Yatim dan Dhuafa 2020. Tahun ini gelaran mengangkat tema Have Fun with Yatim & Dhuafa dalam kemasan acara dengan nuansa hiburan spesial untuk yatim dan dhuafa (15/2/2020).
Selepas kegiatan nonton bareng, sahabat yatim dan dhuafa bersama dengan siswa-siswi Pribadi Bilingual Bandung yang telah dibagi sesuai kelompok, melanjutkan acara dengan berbelanja bersama.
Sahabat yatim dan dhuafa diajak berbelanja baju dan juga buku di Gramedia. Kemudian acara ditutup dengan makan siang di resto sesuai rencana dari kelas masing-masing.
Rangkaian kegiatan ini telah dimulai sejak awal Januari 2020 dengan kegiatan fund rising yang telah dilakukan oleh siswa-siswi melalui Bazar Amal serta pengumpulan dana dari guru dan orang tua siswa.
"Kegiatan satunan yatim dan dhuafa adalah acara tahunan wajib yang dilakukan sebagai saluran pendidikan karakter bagi siswa-siswi Pribadi Bilingual Bandung. Kita berharap agar anak didik kita benar-benar memahami makna tolong menolong dalam rangka menunaikan ketaatan dalam beragama dan meraih keselamatan bersama dunia akhirat," tutup Rahmat Hidayat.
"pendidikan" - Google Berita
February 19, 2020 at 08:01PM
https://ift.tt/38GyDmX
Pendidikan Karakter lewat Kegiatan "Have Fun with Yatim & Dhuafa" - Kompas.com - KOMPAS.com
"pendidikan" - Google Berita
https://ift.tt/39N6Kum
Shoes Man Tutorial
Pos News Update
Meme Update
Korean Entertainment News
Japan News Update