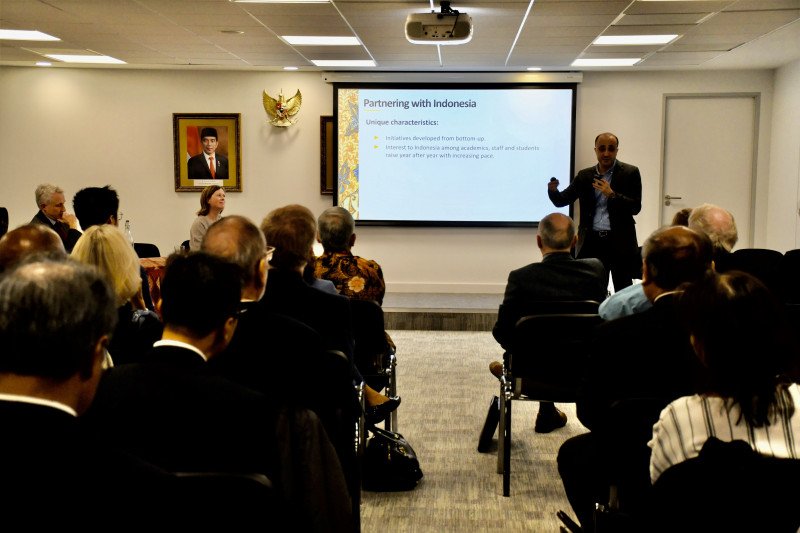 London (ANTARA) - Indonesia memiliki keistimewaan bagi masyarakat Inggris, khususnya di bidang kerja sama pendidikan karena dinilai dari semakin tingginya minat dari para akademisi Inggris untuk menjalin kemitraan pendidikan dengan Indonesia.
Hal ini mengemuka pada pertemuan The Anglo-Indonesian Society (AIS) bertema "Higher Education: Indonesian and UK Relationship" yang digelar di KBRI London, demikian keterangan Penerangan, Sosial dan Kebudayaan Kedutaan Besar Republik Indonesia (Pensosbud KBRI) London, Okky Diane Palma, kepada ANTARA, Rabu.
Duta Besar RI untuk Inggris Rizal Sukma mengatakan pendidikan tinggi telah menjadi sektor yang penting dalam kerja sama bilateral Indonesia-Inggris.
"Upaya yang dilakukan KBRI London dalam memajukan kerja sama pendidikan Indonesia dengan Inggris tidak lepas dari prioritas kebijakan pemerintah untuk mengembangkan SDM," ujarnya.
Menurut dia, saat ini adalah momentum yang tepat untuk meningkatkan kemitraan bidang pendidikan dengan Inggris. Pertama, kebutuhan di tanah air yang memprioritaskan pada pengembangan SDM. Kedua, Inggris, yang memiliki reputasi tinggi di bidang pendidikan tinggi, tengah gencar memperluas jejaring internasionalnya.
Bagi mahasiswa Indonesia, Inggris mampu menyediakan lingkungan belajar yang sangat bagus, khususnya memberikan keterampilan praktis yang dibutukan di dunia kerja. Sementara bagi mahasiswa Inggris, belajar di Indonesia menjadi daya tarik khusus karena keragaman dan kekayaan budaya yang dimiliki.
Geliat kemitraan pendidikan RI-Inggris tercermin dari aktivitas salah satu perguruan tinggi termuka Inggris, University of Warwick, yang hadir sebagai panel dalam pertemuan The Anglo-Indonesian Society itu, Prof. Richard Walton dari University of Warwick mengatakan aktivitas dan kolaborasi universitasnya dengan sejumlah perguruan tinggi di Indonesia semakin meningkat baik untuk kegiatan riset, beasiswa maupun seminar akademis.
The Anglo-Indonesian Society merupakan perhimpunan yang berbasis di Inggris bertujuan untuk memperkuat kemitraan dan pemahaman antara Inggris dan Indonesia. Saat ini anggotanya berjumlah lebih dari 300 orang. Mayoritas adalah warga negara Inggris yang memiliki perhatian terhadap Indonesia.
KBRI London memfasilitasi berbagai kegiatan yang diadakan The Anglo-Indonesian Society termasuk pertemuan bulanan yang membahas berbagai tema dalam
peningkatan kemitraan Indonesia dan Inggris dan update perkembangan kedua negara.
"pendidikan" - Google Berita
February 13, 2020 at 04:29AM
https://ift.tt/2SoRWvk
Kerja sama pendidikan Indonesia-Inggris miliki keistimewaan - Palembang
"pendidikan" - Google Berita
https://ift.tt/39N6Kum
Shoes Man Tutorial
Pos News Update
Meme Update
Korean Entertainment News
Japan News Update