Everyone together!
"Elaine is beginning her walking routine - AGAIN!"
The story of my life.
Pedometer Story
While I was sick I wasn't wearing my pedometer! The battery was dead and I couldn't find the charger and I wasn't walking much - just from my lounge chair to the bedroom and back! Looking for the charger was a low priority.
Now that I am feeling good, I decided that I didn't like the pedometer I had. I got it at Christmas. It wasn't that old and it worked just fine, but I really prefer a larger face with colorful icons and this was a slim line style - not as easily read as other styles.
Feeling healthy and eager to get my walking shoes back on I purchased a Fitbit Versa Lite - on sale for Mother's Day. I am very very happy with it. The time display is large, it includes the day of the week and the date (silly, but I like confirming what I 'think' I know, 😀) and it shows 3 basic tracking items: pulse rate, steps and calories burned. Other screens track other things, but everything I usually want is right on the first screen.
So - the problem of the Fitbit was solved.
Tracking Story
Back
in April
I mentioned a website (
Walk4Fun
) that I began using to track my steps on. What a fun site to visit. I strongly encourage you to visit the link, Walk4Fun, and check it out.
Photo credit: Walk4Fun
This is a full size map of the trail, but additional maps of smaller
sections are available on the site showing the exact locations.
Briefly, it is a free website where you can log your steps - and apply them against one of many famous walking trails around the world - and see pictures of the chosen trail from your 'virtual' hike all along the way. I chose the Appalachian Trail (AT) and I am thoroughly enjoying the 'trip.' And to top it all off, if you have a Fitbit, you can link your Fitbit to your Walk4Fun account and your steps are automatically logged without any further effort on your part. But if your pedometer is another brand, you can key in your step counts manually. And then just periodically visit the site to see where you are on the map and visit some of the pictures of your travels. Wonderful wonderful idea!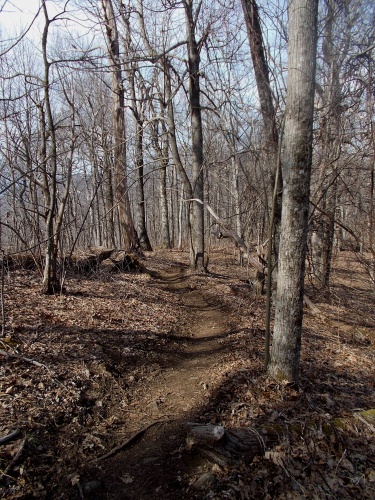 Photo credit: Walk4Fun
My position at approximately 76 miles on the AT.
Earlier this month, my Pennsylvania cousins were visiting me and I mentioned this website. They became interested. We formed a team on the site, and we are all walking the AT together (well, we are at different points because our individual step counts are different), but we can keep track of individual our progress. Then we broadened the team to other family members and friends. Now we are 9 on a team called Cousins.
So now I not only enjoy seeing the pictures and my position on the maps, but I can see where I fall within the team! My one niece is a runner and lives in Chicago. She walks everywhere. Her numbers are very high - very high without even trying. Then there are team members who are inspired to get active again and fall somewhere below the leader. But the leader inspires us to keep walking ...
Great fun.
Steps Story

I am one of those who is inspired to get active again and in trying to get my step numbers up - I discovered that it isn't as easy at 72 as it was at 52. But not discouraging to me at all. I have had to become creative in how I get those steps. I park further away from my destination, I take walks outside, and there are inside opportunities to get steps in as part of my routine. This morning I decided to walk around the condo while my coffee perked. By the time it was ready, I had walked 1035 steps! Wow.
Some days don't seem to allow time for walking during the day - so I have fallen back on my tried and true Leslie Sansone - indoor walking DVDS.
I have a few of her DVDS and they are really very good. Steps movements are simple, repeated, and gradually increased in intensity as needed based on the DVD you choose. It is a work out for sure - and it adds steps. I even have one aimed at "older adults." The DVDs are ideal for when I can't get out for that walk, or I find myself at the end of the day and short of my goal number of 10,000 steps.
That's my walking update for today.
It is wonderful to feel energized and well again. As hard as that flu virus was to get passed, it increased my appreciate of how important good health is.